By Diana Mosher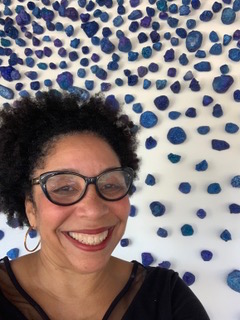 When she's not teaching graphic design and multimedia at Nassau Community College in Garden City, NY, Associate Professor Cheryl McBride is busy creating art—and sharing it. Cheryl has exhibited her work at the Art League of Long Island and the Patchogue Arts Council/MOCA LI. Using data and statistics, she explores important societal issues like gun violence and the opioid epidemic to name a few and she expresses these ideas through the creation of visual art. "I will continue to research laws and other data that pertain to social inequities to educate and bring awareness of our laws and our rights as U.S. citizens," Cheryl says.
"Statistics and data help shape how people know the world," Cheryl adds. "It is my hope that I will increase many peoples awareness of social inequality as it exists today by offering my artwork as way to connect to relevant data in a visually meaningful experience."
When Cheryl created 13% – 16% – 64% – 281 (pictured below) she was inspired by the stimulus letter from the President of the U.S. April 15, 2020. Scroll down to read Cheryl's notes about this piece and then read my Q&A with the artist.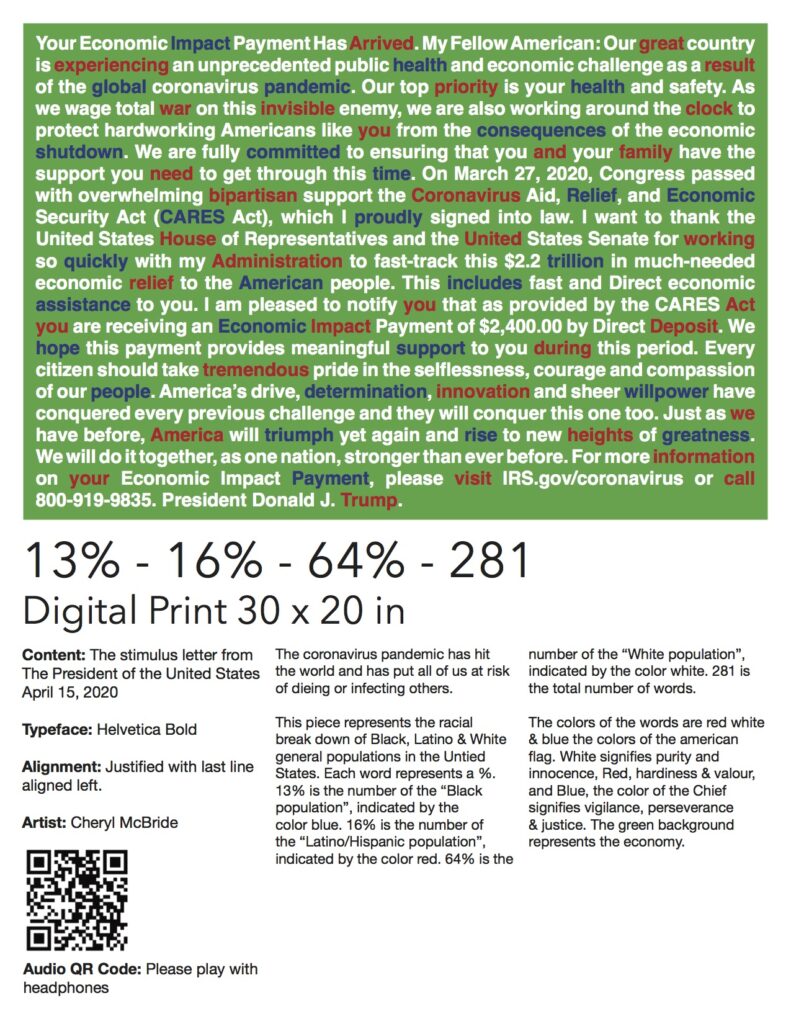 ---
How would you describe your artistic mission statement/your brand in the art world?
My work is the intersection of Fine Art, Graphic Design, Law, Statistics and Human Rights. My work confronts the social issues of our time. Whether making art as a form of activism, criticism, instruction, or inspiration, I see my work as a response to challenging established thought and provoking change through public discourse. Some artists create art to bring about change, for example ending the war in Vietnam or combating the AIDS crisis. My work is in reaction to activism happening in the streets and online.
As an African American woman my connection to my art is personal and inescapable. My race gives me a unique perspective into social inequities. Black women have historically stood up during times of social polarization and I'm no different in response to the current environment in this country.
I am emulating W. E. B. DuBois, who put together a groundbreaking exhibit about African Americans for the 1900 World's Fair in Paris). He used colorful charts, graphs and maps to help bring attention to the circumstances of the American negro at that time. Some of the charts he made explored the African American Census Indicators for the year 1900 for negro businesses, occupations, religion & families. My work brings attention to different race, gender and social inequalities which currently exist.
I explore larger societal issues such as gun violence and the opioid epidemic to name a few and to express these ideas through the creation of visual art. I have used "Title VII" and the "1994 crime bill" as content for my art. I will continue to research laws and other data that pertain to social inequities to educate and bring awareness of our laws and our rights as U.S. citizens.
As a universal language, the arts have always been an effective tool for addressing social issues. "Artivism" or activist art is a form of social protest that explores cultural and political concerns. However, it is much more than just an innovative tactic, Artivism involves an entire practice that attempts to inspire positive change in society.
Critical thinking is the cornerstone of an educated citizenry. Equally, important is the practice of extending empathy: valuing and validating viewpoints different from our own. In addition, inquiry is the training of curiosity for the sake of making discovery and stoking growth from within.
Through my artwork I'm demonstrating that we can have an impact on societal ills through Art.

What projects are you working on now?
I'm working on a child abuse project in collaboration with my daughter who is a children's wear designer.
What has been your biggest success and your biggest challenge?
My biggest success so far has been receiving an award of excellence from the Art league of Long Island. I am a college professor and I have been recently awarded a sabbatical to build a body of work. My biggest challenge is getting my work into galleries in Manhattan and Brooklyn. Also getting my work into the collection of Swiss Beats.
What inspires you?
Any social/economic inequalities around the world and data.
Share something interesting or unique in your process?
When I start to do research on a subject matter I often find unexpected data that I had not anticipated. I also get lost in the research because there are so many different avenues to go down and I need to pick one to pursue in my art work.
What projects are next for you?
Unfortunately there are so many social/economic inequalities around the world I have a lot to choose from. I'm going to do a piece or pieces on gun violence, implicit bias in the healthcare community and school detention rates in K-12 among others.
Did you rethink how you approach your art during COVID? Is there one transformative takeaway from quarantine that might be useful going forward?
Our society now is data driven. There has been a plethora of data that has emerged during this historic pandemic. In the words of the great Nina Simone "It's an artist's duty to reflect the times." The two pieces I am sharing here [in this blog] were made during the pandemic and are a response to the pandemic.
The work pictured below is inspired by the President's April 15 stimulus letter and represents the racial breakdown of Black, Latino and White populations in the U.S. as it pertains to the Coronavirus fatality rate on these three groups.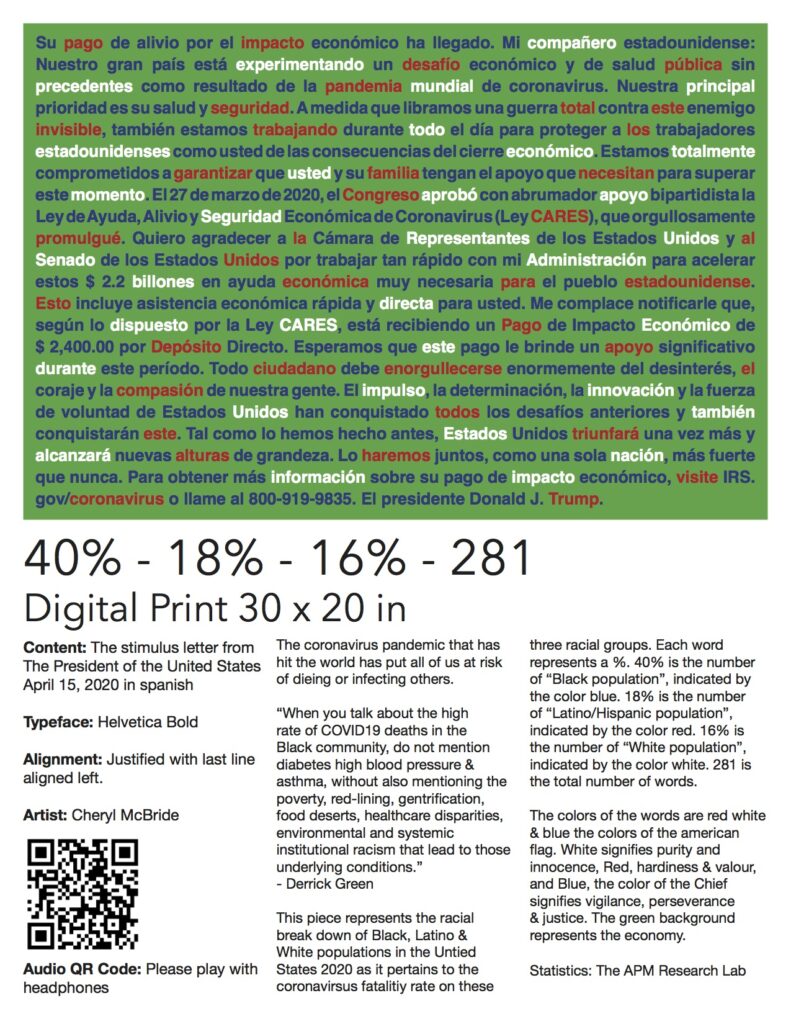 Is there anything else you'd like to add?
Creative people always have a creative response to what is going on in the world. The art world has long been dominated by white male voices. Guerrilla Girls is an anonymous group of feminist, female artists devoted to fighting sexism and racism within the art world. The group formed in New York City in 1985 with the mission of bringing gender and racial inequality into focus within the greater arts community; however we have seen little progress since the inception of the Guerrilla Girls. It is my hope that the changing tide in our society that is happening now will spark a catalyst that will embrace all voices in the art world.