By Diana Mosher
I recently helped a client in a Manhattan studio apartment with a small DIY project in her tiny kitchen. The goal was straightforward: to purchase and install a new kitchen sink. She had never liked the existing sink, which was stainless steel; instead, she was hoping to find a light green replacement to complement the existing green penny tiles on the kitchen backsplash.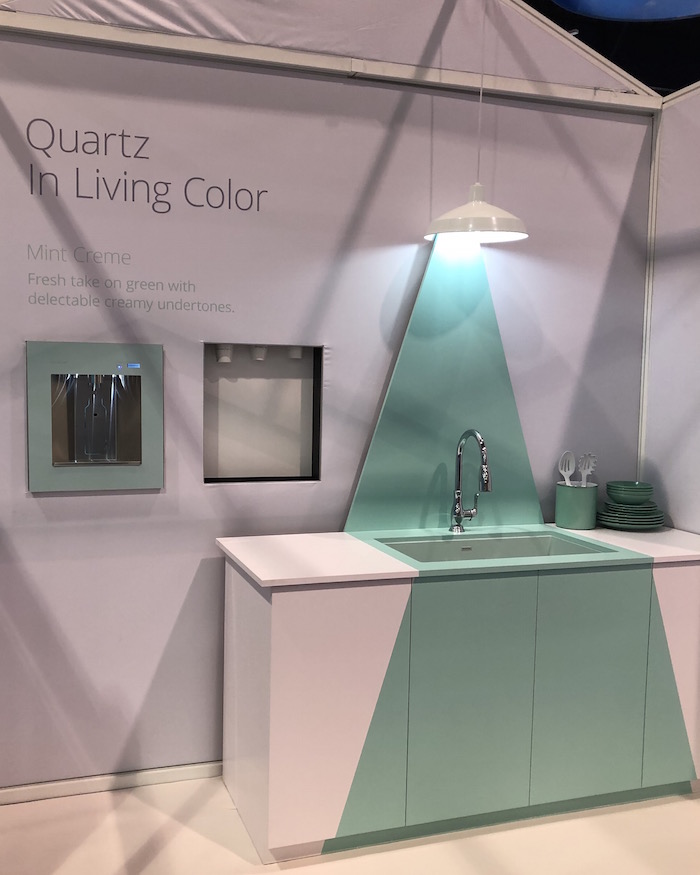 I knew I could help—and I knew just where to look. Elkay had debuted a Mint Creme quartz sink at the 2020 Kitchen & Bath Show (KBIS) in Las Vegas.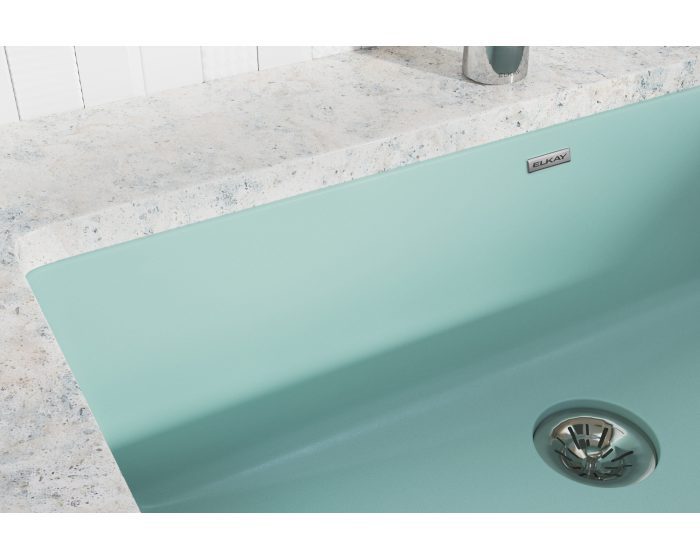 Elkay's mint green sink is available in several sizes. It seemed like the perfect solution. But research revealed that unfortunately this sink does not come in the size we needed. The existing sink was unusually shallow—less than 6 inches deep.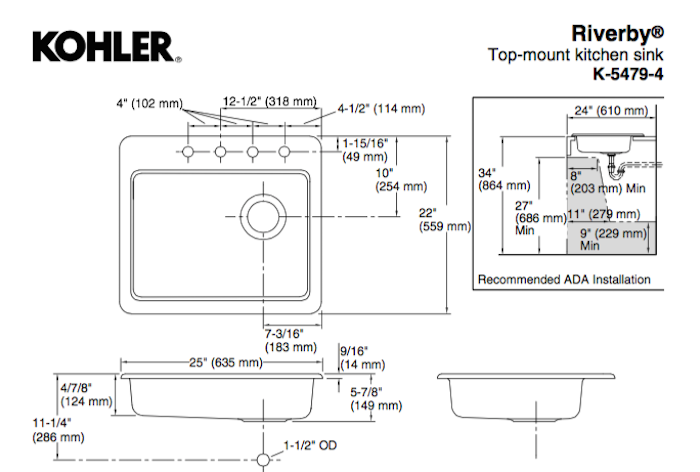 Further investigation confirmed that the top-mount Riverby sink by Kohler was the only choice for this space, but it is not offered in green. Even so, my client decided to go with the Riverby in an off-white enamel finish.
She decided she did not want the green sink after all… but here's what we could have done differently.
Remodeling a Tiny Kitchen? One Mistake You Want to Avoid
The number one roadblock that complicated this simple kitchen project was a decision made by the previous owner of the condo. They had installed a 24-inch-wide dishwasher below the sink. This is the reason our replacement sink options were so limited.
The height of the dishwasher does not allow for the usual sink options that are normally available even in the smallest urban micro apartment. One solution would be to source a custom sink in the exact dimensions, color and material specified for this client and space. Grifform Innovations, for example, is an online resource specializing in custom shower pans and sinks made from Corian in an enormous array of color choices. Local kitchen design centers can also help designers and their clients specify a completely custom solution that would fit these shallow dimensions in a specific shade of green.
Another (easier) solution would be to move the dishwasher to another base cabinet, in this case to the left of the sink. Interestingly, my client does not use her dishwasher but she intends to keep it because she has heard that it will make her apartment more valuable if she decides to sell. Besides changing the placement of the dishwasher, another solution would be to purchase a narrower, 18-inch appliance. This scale would be more attractive to potential buyers and better complement the space.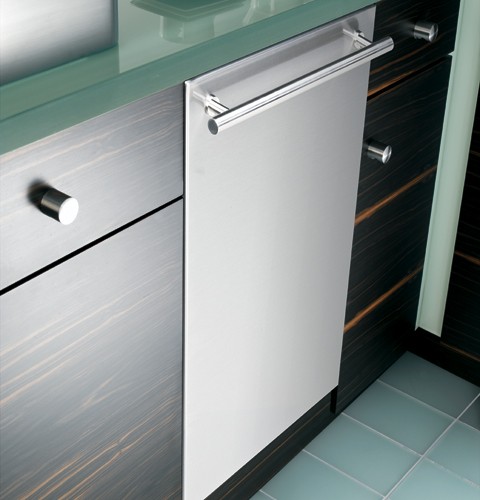 Introducing an 18-inch dishwasher (not below the sink, but in a side cabinet) would also allow for a deeper sink and also a narrower sink which would create more counter space especially if the sink is undermount. Just as attractive to potential buyers is a kitchen design that maximizes workable countertop space.
The fact that my client has never actually used the dishwasher in the ten years she has lived in the studio apartment reinforces the argument that an 18-model might be more appealing for the typical studio apartment lifestyle. If staging this small apartment for sale, I would recommend purchasing a new, state-of-the-art 18-inch dishwasher would be a good investment that could help the apartment sell faster and better.
Are you moving into a new home, moving out or just need a refresh/finishing touches for where you live? I help busy homeowners and renters feeling overwhelmed by too many design choices or who need help getting a DIY project back on track.
Contact me today at 347.840.2499 or schedule time on the calendar for a complimentary 30-minute discovery call, virtual walkthrough or in-person visit.