By Diana Mosher
Anyone who works or lives in a cramped space is always on the lookout for storage solutions and furniture that can perform more than one function. One of the most celebrated examples is the Murphy Bed. Also called a wall bed, pull down bed or fold-down bed, a Murphy Bed is hinged at one end to store vertically against the wall, or inside a closet or cabinet. The need for wall beds can be traced to the late 1800s when inventor William Lawrence Murphy began tinkering with hideaway beds while living in a one-room apartment in San Francisco.
The Murphy Bed brand continues to thrive and its success has inspired others to enter this multifunctional furniture space. There are many brands of wall beds to choose from including Resource Furniture which offers a variety of options and styles with book shelves and sofas that hide away when the bed is pulled down.
Here are some other examples of multi-functional furniture that can help a house or apartment feel larger during holiday entertaining or any time of the year.
Slatted Wood Room Divider
Break up any living space with Urban Outfitters' solid room divider crafted from natural mango wood and reinforced with iron. Its slatted construction bends for flexible placement. This is a great way to give houseguests who do not have their own dedicated guest room a little more privacy or use it to separate a home office.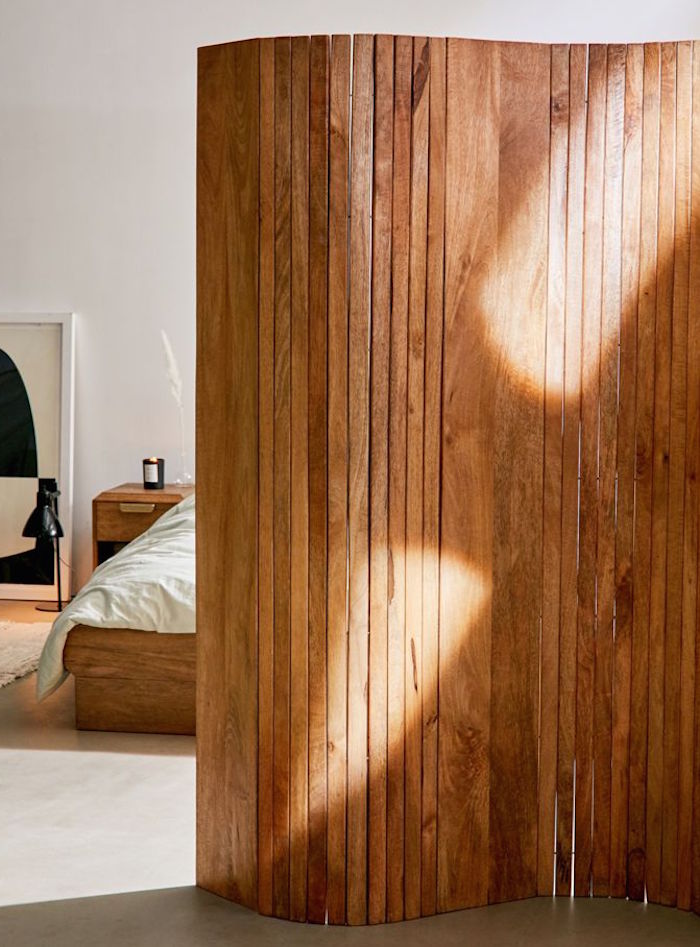 Resource Furniture's Coffee to Dining
Resource Furniture's Brooklyn transformable coffee-to-dining table features a crisscross metal base with hidden wheels. Height-adjustable from 14″ to 29.5," Brooklyn can also seat up to eight for dinner, utilizing two self-storing extension leaves that allow the table to expand from 37″ to 77″ long. The Brooklyn table is available in a wide variety of melamine, lacquer, mortar-look and wood veneer finishes and seven metal base finish options.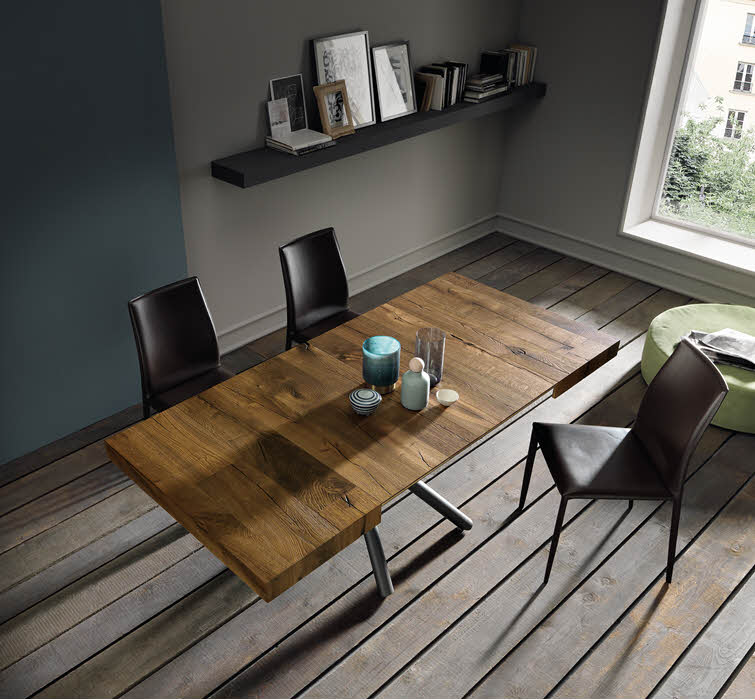 Pottery Barn's Convertible Dining Table
Pottery Barn's multitasking table provides maximum style in minimal spaces and is perfect for apartment living. At a moment's notice, it easily converts from a console into a dining table, and its lightweight frame makes it easy to reposition. It is crafted from kiln-dried solid poplar wood, MDF and oak veneer. When extended it seats six.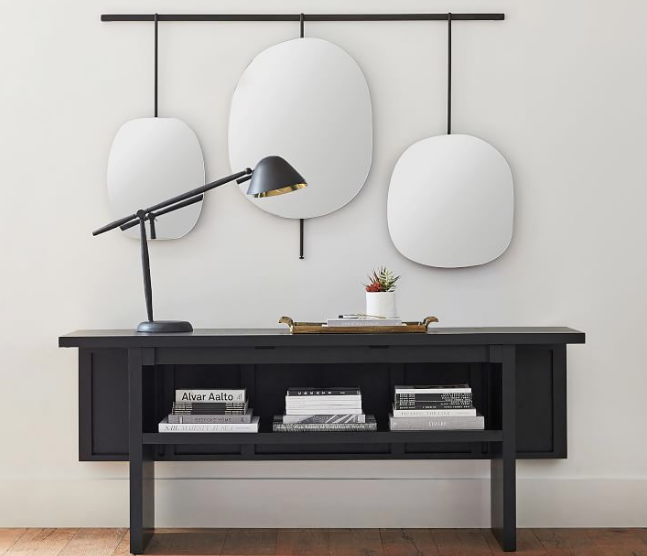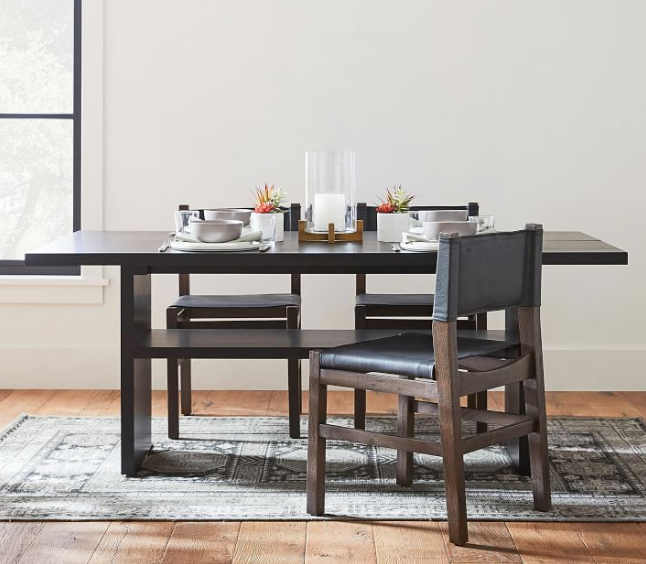 The Errai Console + Dining Table
The Errai Console + Dining Table is a convertible design that allows you change it from a console table to a dining table that seats up to 8. This modern console + dining table has a faux concrete Melamine laminate finish and is 100% Italian made. The Errai Console + Dining Table is an excellent mix of functionality and style and will add a versatile piece of furniture to your interior design. Great for studios, lofts and small apartments where space is at a premium. It comes with three 18.5″ extensions giving the table four usable depths for a variety of different purposes. Crafted using fine imported Italian laminates and aluminum hardware, each with the highest attention to detail.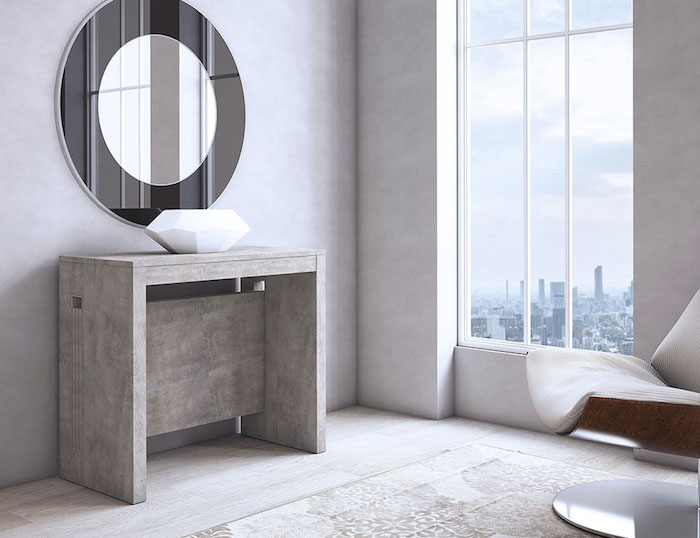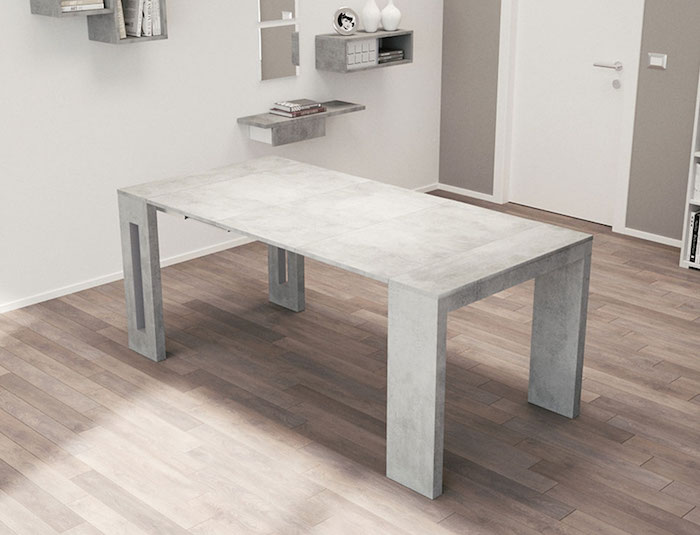 The Alzare Transforming Coffee Table
The Alzare by Expand Furniture is a small transforming coffee to dining table that utilizes a hydraulic gas lift system for strong support and easy use. With its low profile build it rests at 10 inches in height and raises all the way to a 30 inch dinner height or anywhere in between. Just activate the mechanism with a simple pull, move it to the height you like and let go and it will stay in place. Capable of holding well over 200 lbs of weight this small table also is mobile with discreet wheels built into the metal bar legs.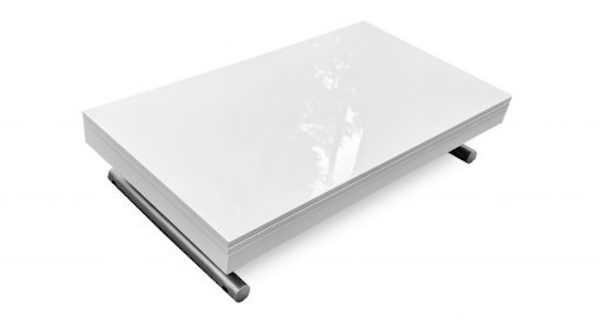 Malibu Convertible Chair Bed
The Malibu Convertible Chair Bed by Gold Sparrow is easy to operate and makes any room a guest room. This is a great way to increase options in your living pace.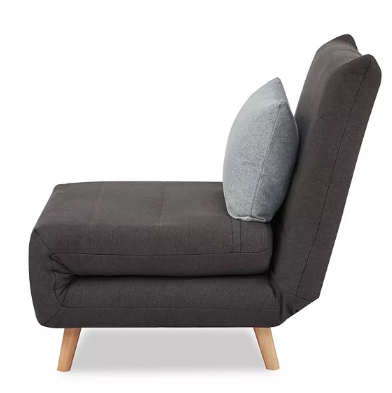 Sagebrush Murphy Cabinet Bed
The Sagebrush Murphy Cabinet Bed is another great choice to welcome surprise guests. The rest of the time it folds up and blends into the room like it was never there. When closed, the cabinet takes up just 10 square feet of floor space.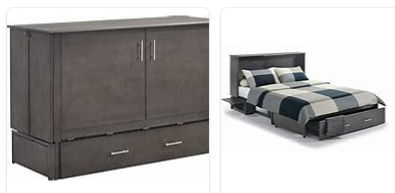 Would any of these solutions work in your home or office to welcome guests for a meal or overnight stay? To schedule a complimentary 30 minute design consultation in person or via Zoom, pick a time on the calendar!