By Diana Mosher
The North American division of Duravit USA is located in Duluth, GA—but the luxury bathroom manufacturer actually originated in the Black Forest region of Germany where it was founded in 1817 and continues to be headquartered. An innovator since its earliest days, Duravit is known today for its forward thinking technology and long-term collaborations with prominent designers like Philippe Starck, sieger design, EOOS, Phoenix Design, Frank Huster, Christian Werner and Matteo Thun.
These partnerships have resulted in stylish and functional product lines and there's always something exciting in development even during the COVID-19 shutdown.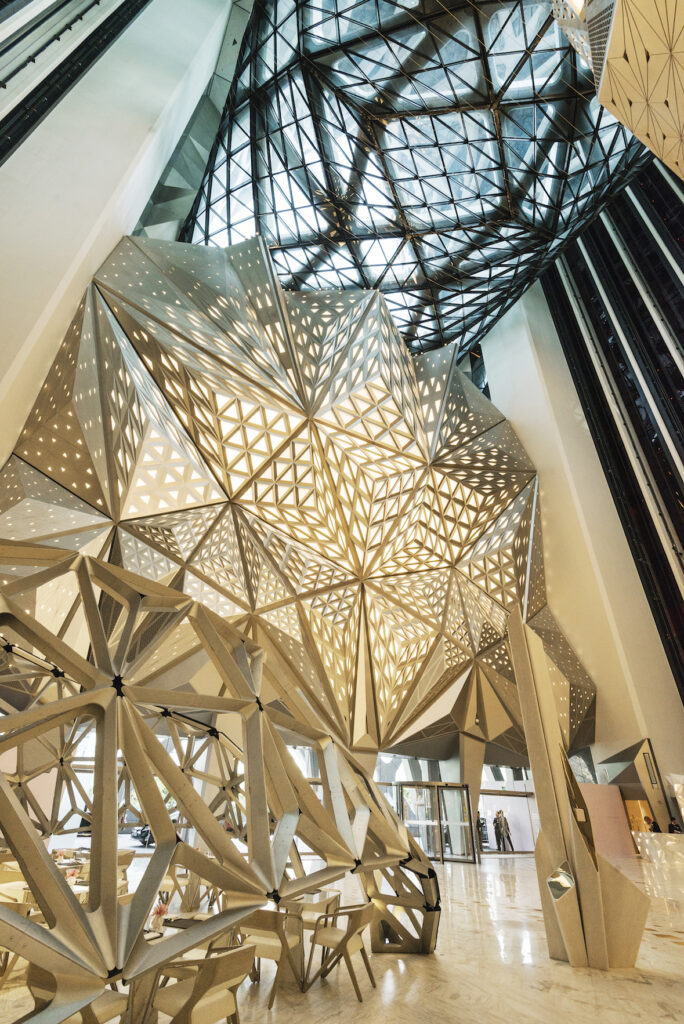 That's why even though the HD Hospitality Design Show in Las Vegas was cancelled, Tim Schroeder, President of Duravit USA, hosted a virtual press briefing where he shared three bathroom trends on tap at Duravit.
Universal Design and ADA Compliance
Universal design expands upon the design tenets that shaped the American with Disabilities Act (ADA) and it results in practical spaces with layouts, door hardware and other features that can be used by all regardless of age or abilities. The Center for Universal Design promotes awareness of barrier-free design and architectural accessibility [and] recognizes the legal, economic and social power of a concept that addresses the needs of people with and without disabilities.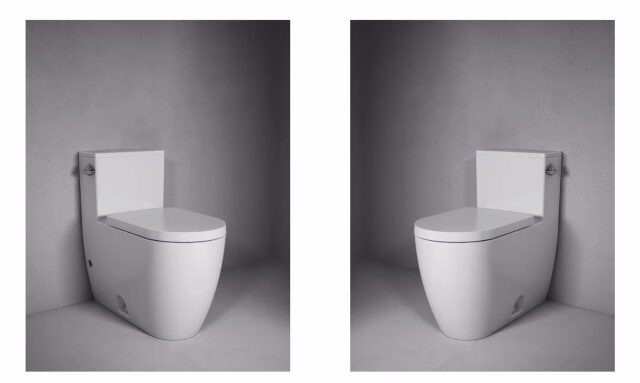 DuraStyle Basic, the latest addition to Duravit's wide range of ADA compliant toilets and universal design products, is positioned to compete with an entry level price point that hoteliers and multifamily developers will find appealing.
"We're pleased to offer them [and residential consumer as well] a growing number of ADA compliant toilets that range in style, market, budget and size," said Schroeder. As the American household is rapidly changing, Universal Design, or the concept of creating a space that can be used by everyone regardless of age or ability, is an increasingly important topic.
The Shower Toilet
Duravit has been messaging to the North American marketplace that nothing is as thorough, as hygienic and as refreshing as cleansing with water. This is why the shower-toilet—a toilet-bidet combination—is becoming increasingly popular. Considerably softer and gentler than toilet paper, water via the shower-toilet leaves users feeling clean and refreshed, Schroeder noted. And given the recent fears about toilet paper shortages during COVID-19, this approach is also practical.
Duravit's SensoWash Collection is grounded in simplicity with an elegant, iconic form and a flat design language. It can be operated by remote control or convenient app via integrated smart phone technology with settings for personal bidet preferences like lady wash, warm air drier or odor extraction.
Hygiene is a key topic now in the marketplace, according to Schroeder. SensoWash also provides a rimless flush and antimicrobial components—that kill 99.999 percent of bacteria in the bowl—are baked into the ceramic surface.
Mirrors and Lights
In its quest to elevate luxury in the bathroom, Duravit has also mastered the integration of lighting, defogging and integrated technologies into its mirrors. From the signature circular shape of the Happy D.2 Plus collection to the more rectangular XSquare characterized by its chrome elements, the mirrors are a natural extension of each collection's design language. "We are proud to offer not only a range of solutions in the mirror category, but perhaps more importantly, class-leading designs that incorporate patent-pending innovative technology," said Schroeder.
"Designed by sieger design, the Happy D.2 Plus mirrors incorporate the classic design idiom of the iconic Happy D series, the archetypal oval. Available in two sizes, these circular mirrors are available with all- round lighting strips in two finishes: Radial and Organic. The lighting strips that border the mirror designs incorporate a luminosity of >300 lux, with light adjustment capabilities from 2,700 (warm light) to 6,500 (cold light) kelvin.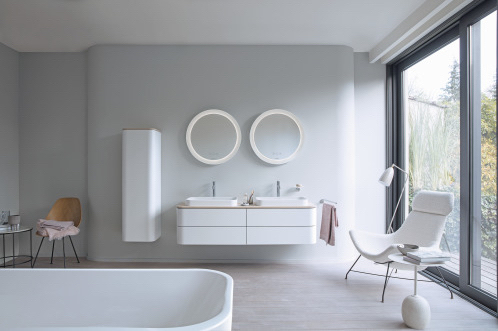 Duravit's XSquare Mirrors, designed by Kurt Merki Jr., boast striking chrome sides and an integrated touchless control panel, which allows users to seamlessly alter illumination levels between main light, ambient light and to defog the mirror. With a luminosity of >300 lux and gradual adjustments of light color ranging from warm candle light to cool light (2,700 – 6,500 kelvin light color) these mirrors also allow lighting options to be programmed via a memory function.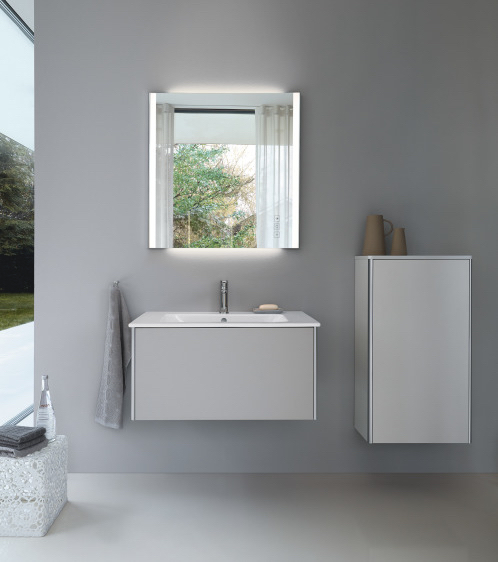 Christian Werner designed the L-Cube mirrors with a "frame of light" emanating from behind the mirror and they can be turned on and off with a simple hand motion. Featuring 480-Lux LEDs, the L-Cube mirrors provide glare-free illumination and are further equipped with a dimmer to adjust light to desired brightness.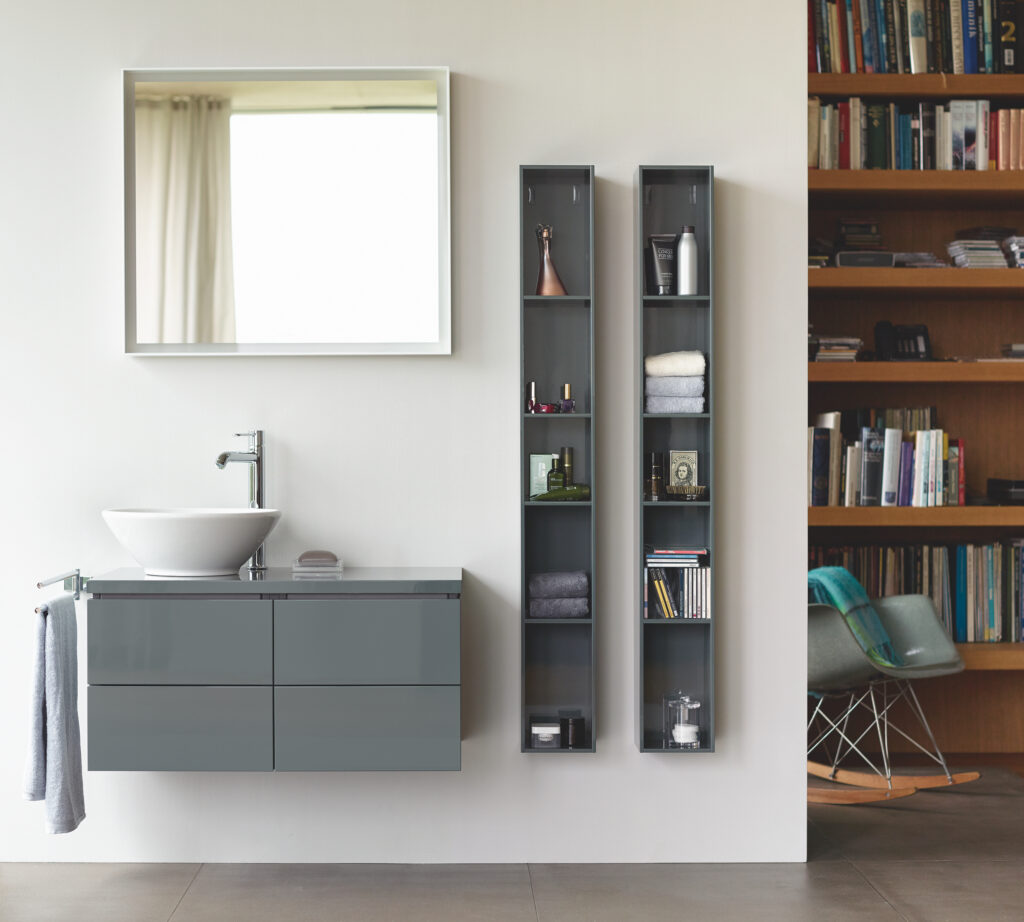 There's lots more to see at Duravit.com. You can visit them here.