By Diana Mosher
Real estate investors always enjoy perusing the aisles of the Kitchen and Bath Industry Show (KBIS). The products that appeal now to the luxury homeowner will influence how multifamily clubhouses and other amenity spaces at investment properties are designed in the future (or right away depending on the price point).
At this year's KBIS, which was held at the Las Vegas Convention Center and co-located with the International Builders Show (IBS), smart technology was everywhere with voice activated features incorporated into a variety of appliances from showers and toilets to kitchen appliances.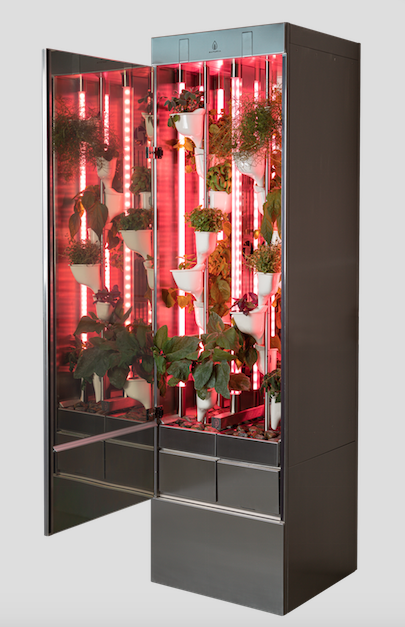 Luxury smart home appliance brand Natufia exhibited the Natufia Kitchen Garden, the world's first fully integrated and automated hydroponic kitchen garden. The technology of the Kitchen Garden automatically maintains the perfect LED light, temperature, water and pH level to ensure optimal health for the plants. It also optimizes all minerals, nutrients and vitamins for the non- GMO leaves and flowers. Since it is controlled indoors, homeowners do not need to worry about pesticides, herbicides or fungicides. These are year-round, 24/7, kitchen-to-table ingredients without the concern of weather challenges or seasons.
The non-GMO seeds come in individual, patented seedpods and can grow anything from basil to lemongrass. The unit simultaneously grows 32 plants in handmade ceramic cups. The watering is fully automated, cascading from the top, down to each cup. Each Kitchen Garden can produce enough plants and herbs to ensure two harvests a day. And, by connecting it to the Wi-Fi, owners can monitor and control the machine through the cloud. It even has three playlists to play music for the plants: classical, ambiance and nature sounds.
Color and customization
While 2019 saw the introduction of True Residential's tactile Ultra Matte Black finish and a vibrant Emerald finish, this year the kitchen appliance manufacturer further showcased freedom of choice (aka "luxury"). Saffron joins a wide array of available custom finishes in the Build Your True collection—which also includes Stainless Steel, Gloss Black, Matte Black, Ultra Matte Black, Emerald, Cobalt, Matte White and Antique White.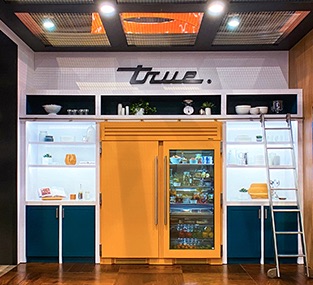 Together with complementary hardware options that include Stainless Steel, Copper, Brass, Pewter, Gold and Chrome, designers and their clients can now choose from 54 unique combinations available in both full-size and under-counter units.
Another standout was Dacor whose Personalize with Dacor program enables customers the ability to customize colors, knobs and handles to create a more personalized aesthetic.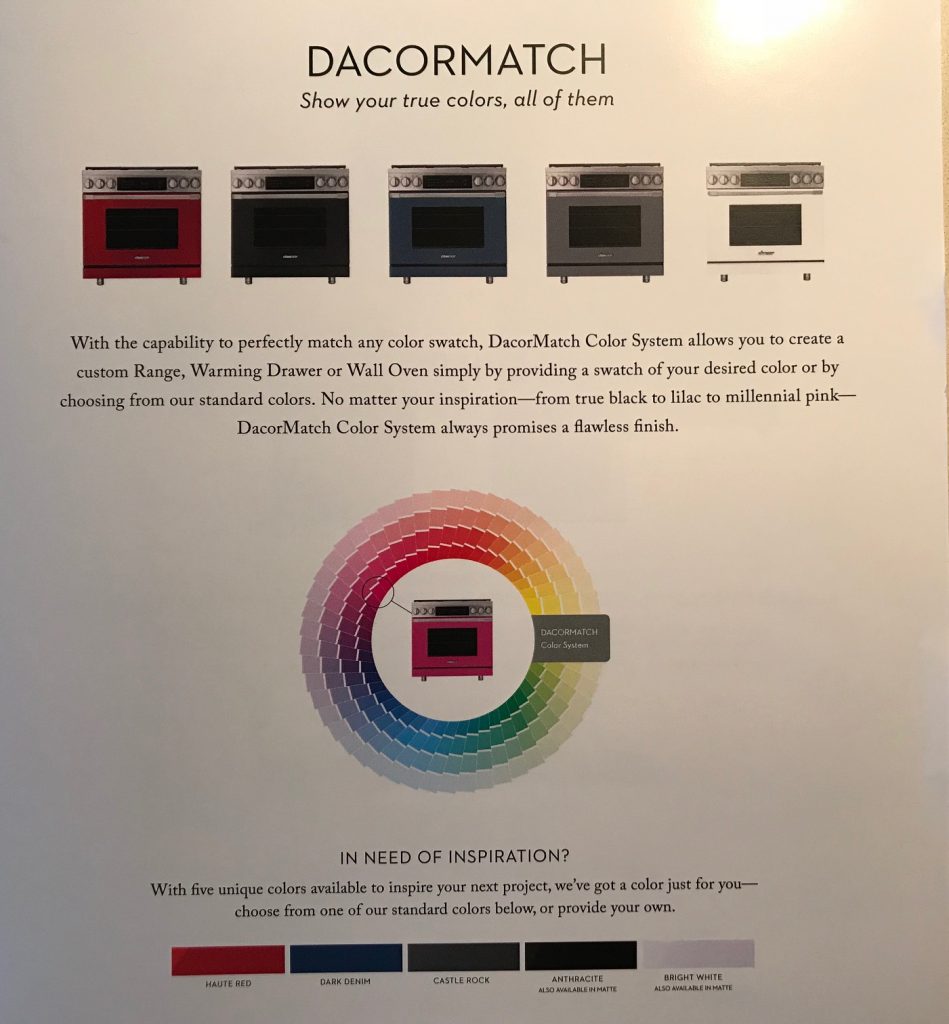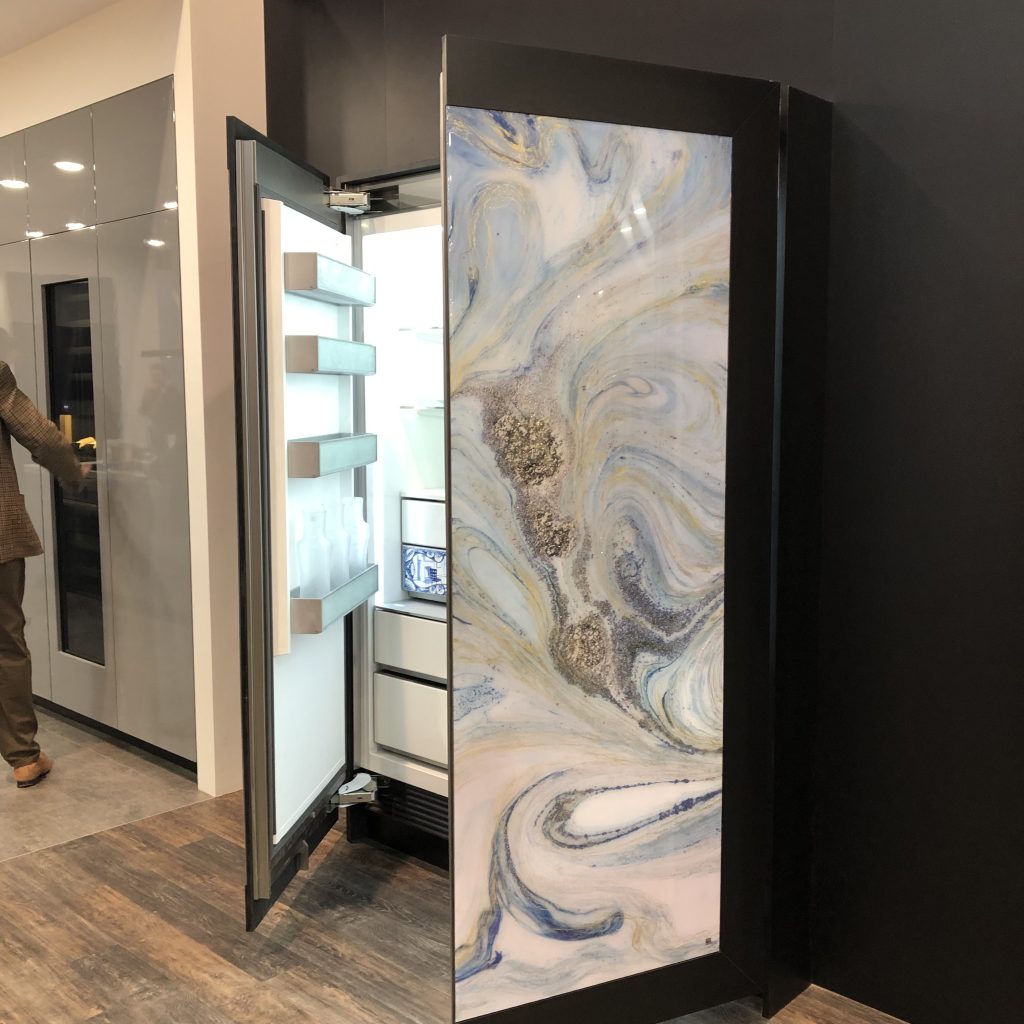 Also on display at the Dacor booth was a cabinet refrigerator that merged art with functionality.
Kraus USA unveiled the Urbix Industrial Bridge Faucet featuring the introduction of ColorSmart™ technology—a heat-activated color changing finish.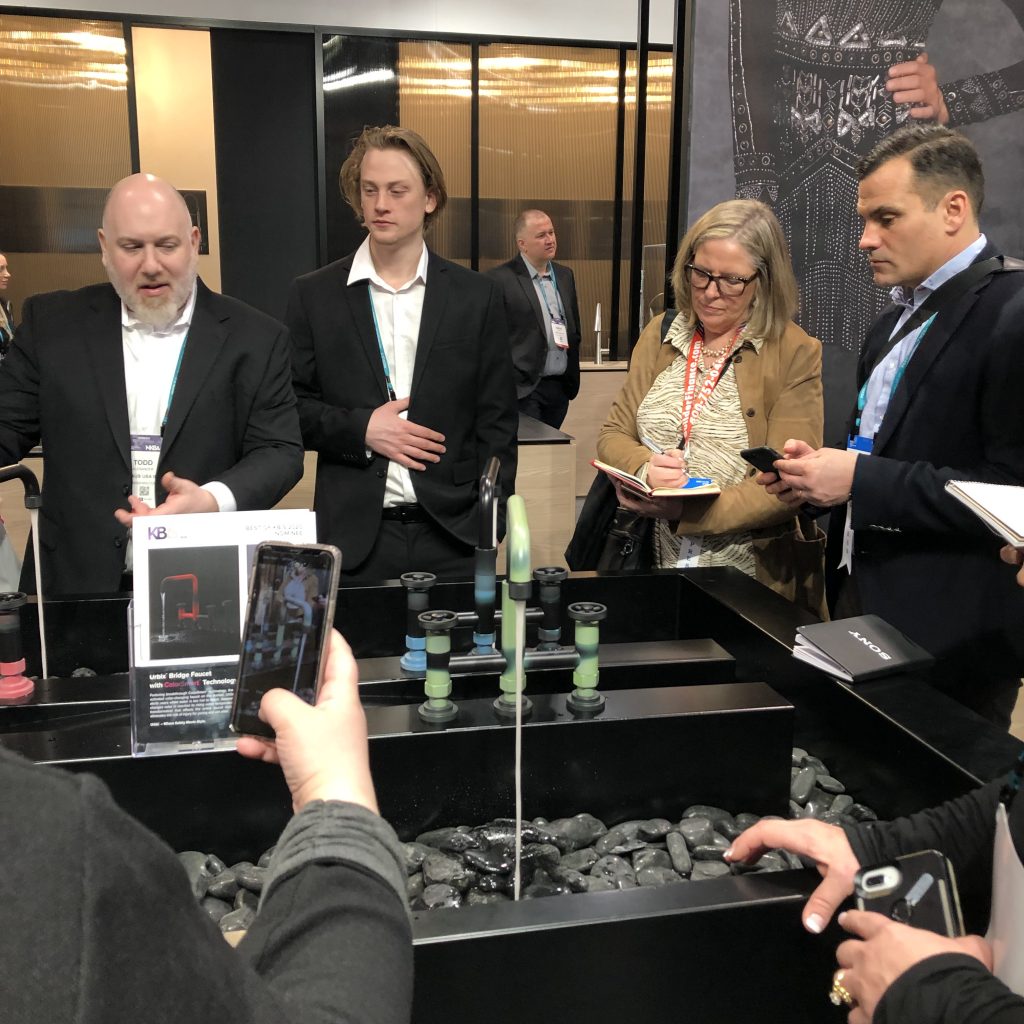 At room temperature, Urbix appears matte black. But when you turn on the hot water, the thermochromic finish begins to gradually change color in response to the rising temperature. As well as offering a unique kitchen design element, Kraus says that the innovation will reduce the risk of injury from hot water for children and others with heat sensitivity.
In the bathroom, Kohler's new Moxie showerhead and wireless smart speaker blends the Kohler showering experience with sound designed by Harman Kardon.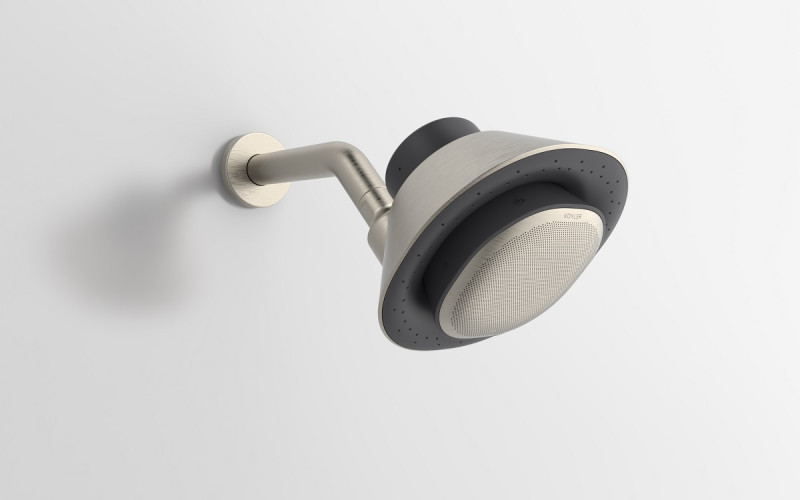 The showerhead features a full-coverage spray and a smart speaker with built-in voice assistant. The portable speaker delivers natural sound balance and the assistant allows hands-free control.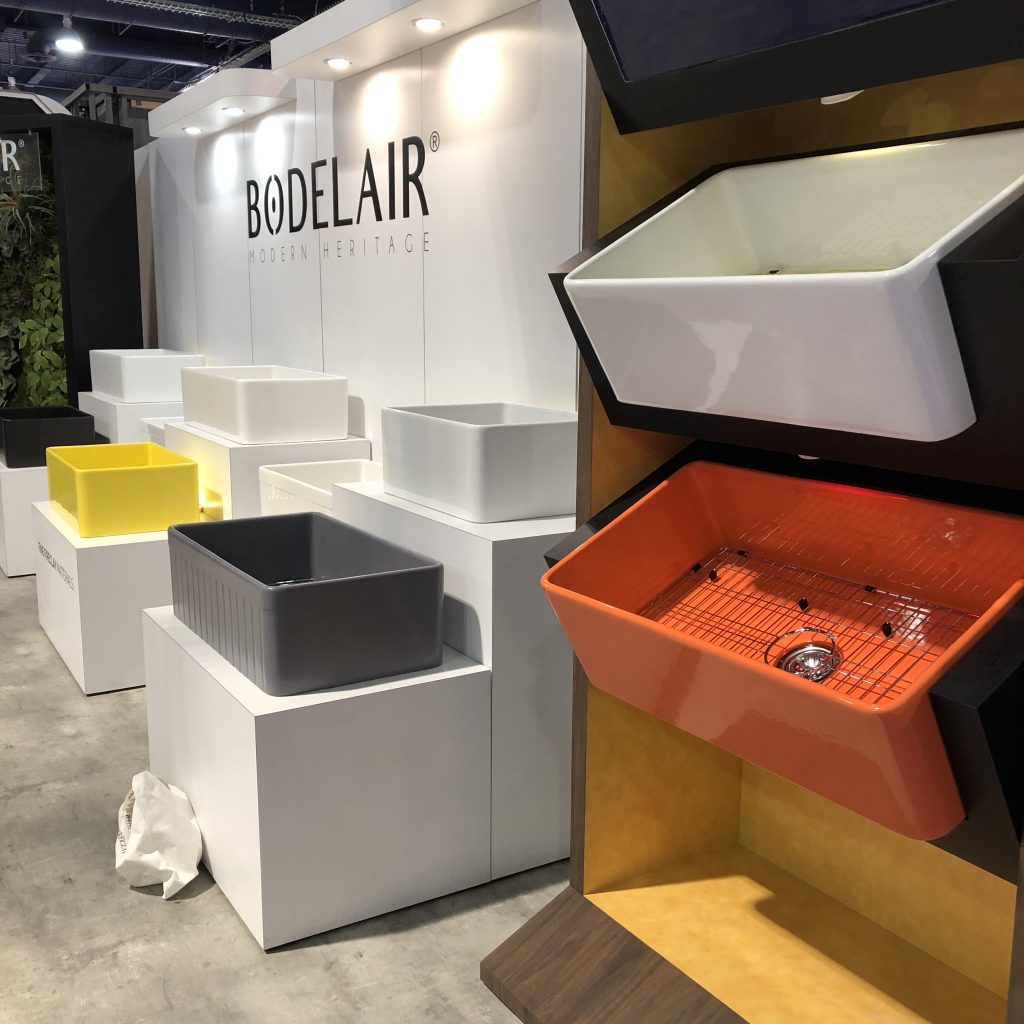 Besides a variety of colorful sinks, there were also many concrete sinks and tubs on display this year by multiple suppliers. Some were geometric and others organic in shape, but all had urban appeal. Classic black and white made an appearance as well.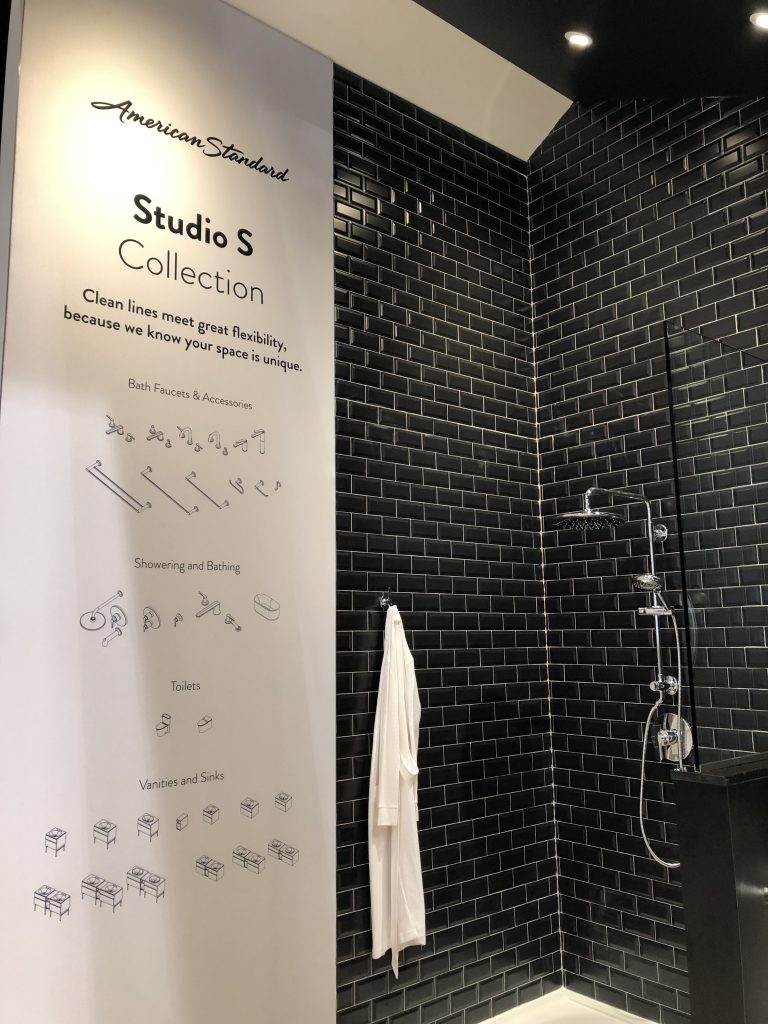 American Standard displayed their Studio S Collection against a modern backdrop of classic black subway tiles, providing an alternative to color that never goes out of style.