By Diana Mosher
Are you planning a bathroom remodel in 2022? Your sink options have increased. Kohler has partnered with artist Janet Echelman to create a new member of the Artist Editions family of sinks: the 18.02. Echelman's aerial sculptures have elevated urban environments around the world. For this design project with Kohler, she was inspired by the fundamental structure of water. She chose the name 18.02 to represent the two hydrogen electrons and eight oxygen electrons that make up a water molecule.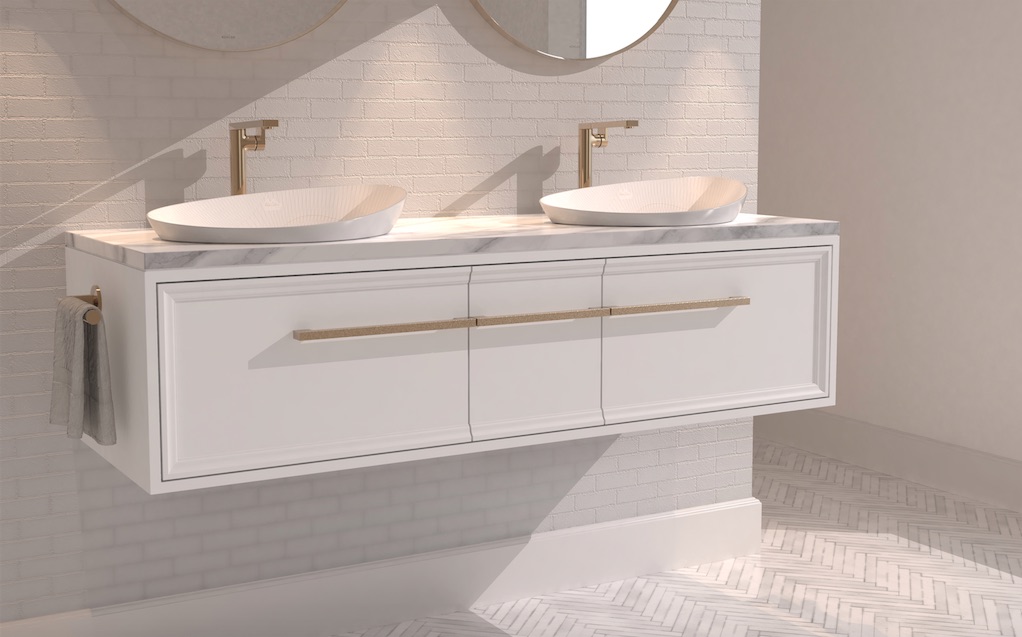 The sink's aesthetic follows Echelman's body of work as a sculptor. Starting with its asymmetrical oval basin, the 18.02 has a graceful, slender quality that was achieved through the use of Kohler's innovative Supramic technology. It allows the manufacturer to combine strength with razor-thin edge profiles. Within the white basin, Echelman created a fluid pattern of thin intersecting metallic lines that shift with the light from champagne golds to soft silvers.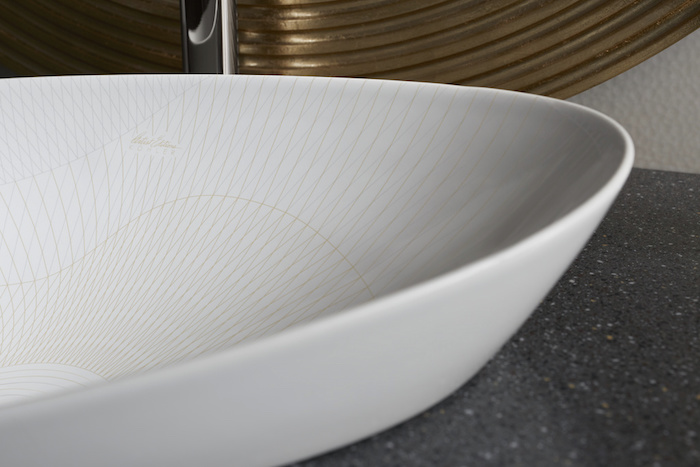 "What I love most is that each time you use it, it combines the literal truth inherent inside each water molecule with the sound and flow of actual water cascading into the basin," says Echelman.
Echelman is an alumna of Kohler's Arts/Industry residency which provides artists with the unique opportunity to explore their craft through the use of industrial materials and techniques within the Kohler factory setting. In recent years, Echelman has created airy sculptures out of unusual materials like monofilament nylon or woven fabrics.
Her work was ranked #1 by Oprah Winfrey on her list of "50 Things That Make You Say Wow!" and she has been the recipient of Smithsonian magazine's American Ingenuity Award and was also awarded fellowships with the John Simon Guggenheim Memorial Foundation, Harvard University and United States Artists.
18.02 is part of Kohler's Veil Collection and it coordinates with other products in the line, as well as a wide variety of faucet and accessories. The 18.02 does not have faucet holes and must be paired with a wall-or counter-mount faucet.
Kohler's 18.02 sink would look great in a variety of residential settings including multifamily amenity spaces. If you're thinking about making changes to your space in 2022, let's schedule a free 30-minute design consultation. And if you own or rent real estate as your primary home or an investment property, please sign up for my interior design tips! When you enhance your interior spaces, outdoor spaces and curb appeal, you increase the value of your real estate investment.