By Daun Curry
October is National Kitchen & Bath Month. That's right around the corner, so I've put together a few tips for how to design your dream bathroom—big or small. From tiling, papering and reflecting your unique style, these ideas cover all the bases. 
1 Tile the Walls
When designing a small bathroom, don't be afraid to use tile. Tiling the walls up to the ceiling will make the room feel taller and more expansive. In addition, a beautiful pattern in a serene palette can do wonders for a small space—don't feel relegated to choosing only solids. Add a minimal, geometric mirror for the perfect finishing touch.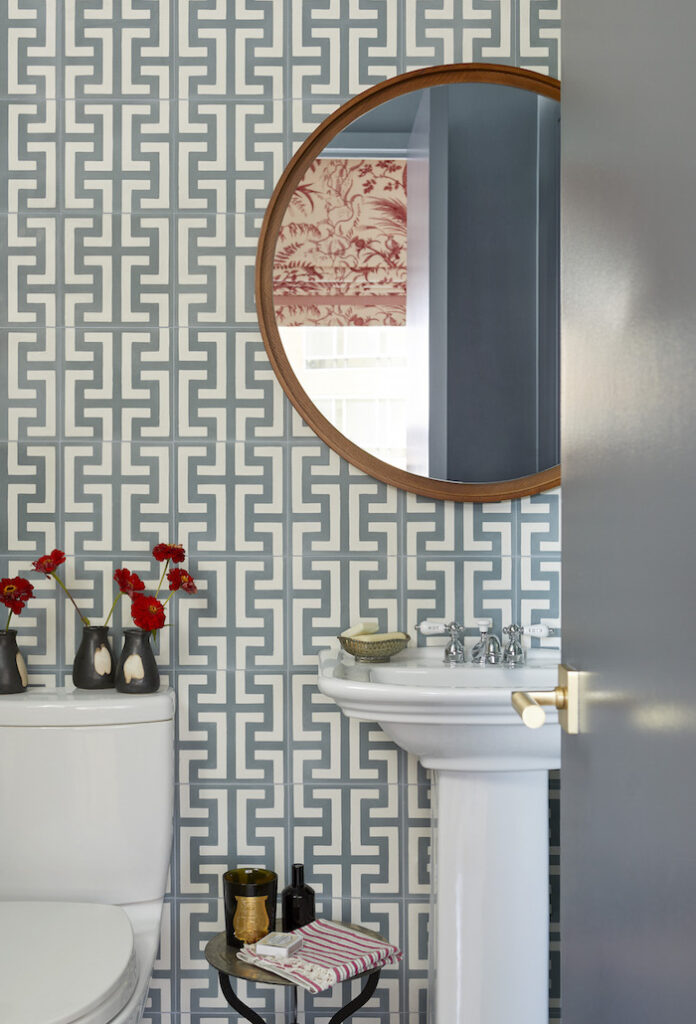 2 Take Advantage of the Views
When you have a bathroom that offers gorgeous views of nature, keep the walls simple. Small tiles in a neutral color designed to enhance the panorama work perfectly—such as the off-white tiles I used to frame the window. But while you should take a more subdued approach to the walls, don't hesitate to tile the floors. Whether you choose a solid or a pattern, make sure the design features a sense of movement to mimic the feel of the natural world. Lastly, employ a floor-to-ceiling mirror that serves to reflect the space and offer a greater sense of spaciousness.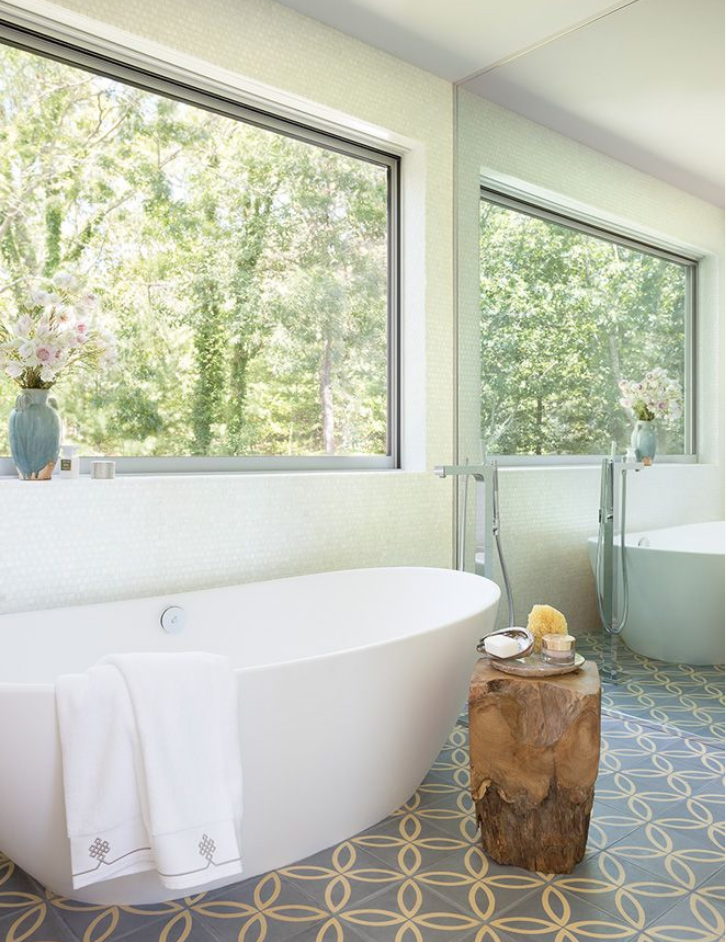 3 Dual Sinks
One of the best ways to cohabitate without daily morning arguments? Design your bathroom with double sinks. If you have the space, there is nothing that will make your life easier than to not have to fight for sink time in the morning rush. It also makes your evening rituals that much more pleasant. Another plus? This simple addition to your bathroom design can become a selling point for those that own their own homes.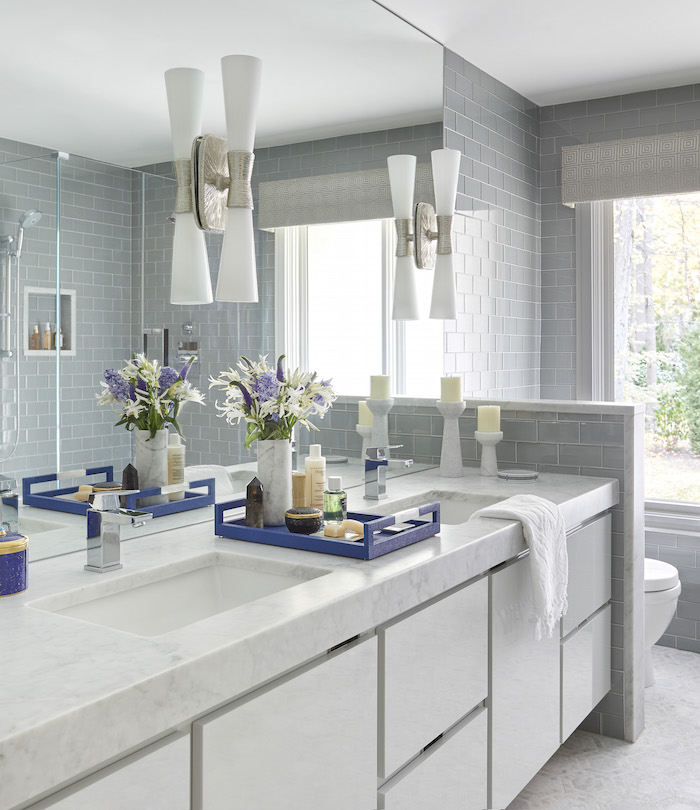 4 Design to Suit Your Style
A typical bathroom design might not be for you—and if it's not, embrace the style you love. The bathroom is one of the most private rooms in the house—it should help you relax and have a moment of peace before the day's rush or after the evening's pandemonium. If you lean towards a more architectural look, done right, you can create maximum impact while fulfilling maximum function. In this room, a gorgeous yet spacious tub has all the accoutrements to enjoy a perfectly serene bath while the surrounding wood paneling and complementary architectural ceiling help form an oasis of tranquility.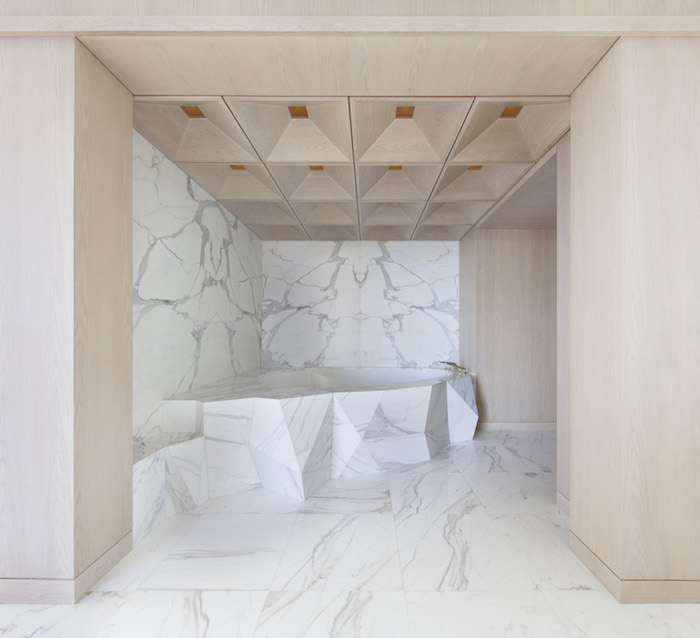 5 Glam It Up
It's a fallacy to think that you can't have a truly glamorous bathroom without covering every square inch of it in marble. A strategically-placed custom marble vanity adds a beautiful touch but it's the Calico wallpaper and crystal chandelier that really pulls this room all together. Implementing a complementing tone-on-tone look can go a long way with the right colorways, materials, and hardware.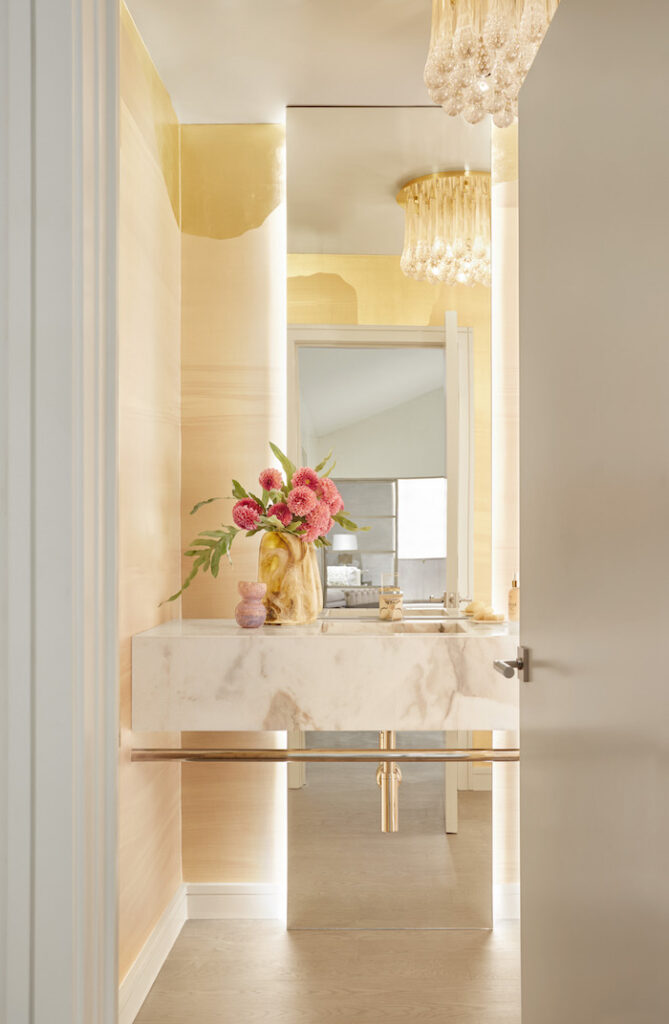 Daun Curry is a New York-based interior designer and a gradate of Parsons School of Design. Her work has been featured in Architectural Digest, The New York Times, Vogue, The Wall Street Journal, and Elle Décor, to name a few. Her clients range from notable brands to influential individuals, including: The Cosmopolitan of Las Vegas, Sotheby's, Morgans Hotel Group, Moroccanoil, Jemma Wynne, Naomi Watts, and YouTube star Casey Neistat. In 2019, Curry cinched the highly sought-after Andrew Martin International Interior Designer of the Year Award. Visit her here.