By Diana Mosher
Co-working was a hot multifamily amenity before Covid—now it's a must. In fact, work-from-home space leads the list of 2023 design trends for apartment developers.
We've moved beyond the public health crisis of 2021-2022, but working from home or hybrid work schedules have become permanent for many apartment residents who used to commute to the office five days a week.
As remote work continues in 2023, renters will look for apartment communities with co-working spaces. In fact, this amenity will be a reason to stay or move to a new apartment.
Use a Variety of Furniture
For over 60 years, Stylex has produced furniture for evolving modern environments. I recently attended the opening of their first showroom in New York City. It's designed by IA and located at the New York Design Center at 200 Lexington Avenue.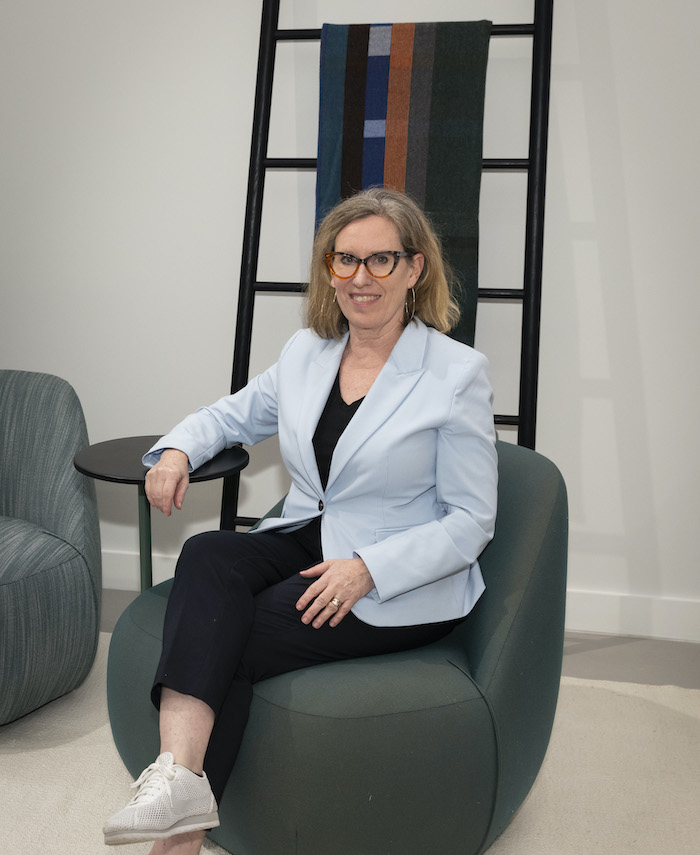 The showroom opening also marked the launch of their new Dau collection, a colorful, contemporary collection of tables, upholstered sofas, benches, poufs and lounge chairs designed to reimagine the workplace and beyond. 
Dau's playful shapes and optional integrated casters allow for mobility and the creation of seating arrangements for collaboration and community building. See other Stylex collections here.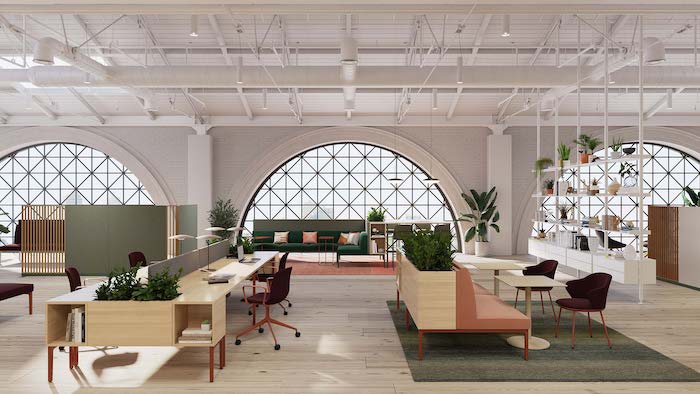 Coworking Design Tips
What should co-working spaces in multifamily properties look like? How should they be configured and styled with resident retention and ROI in mind? Every designer has their own interpretation, but we all agree on these guidelines:
• The traditional business center is out; instead, provide a variety of places to work throughout the building footprint. Residents can choose where they work and move around as tasks and projects evolve during the day.
• In shared amenity spaces as well as in apartment units, carve out small areas where residents can have a private phone call or work alone on their laptop. In addition to these isolated nooks, also include tables in a variety of sizes where residents can sit together.
• Also offer different types of seating. For better ergonomics, consider choosing adjustable office chairs instead of fixed ones. Include sofas, stools, poufs and bar chairs. 
• Whenever possible, include lightweight furniture that can be easily moved by residents.
• Stand apart from other apartment communities by incorporating a standing desk or two. Phone booths are also available in a range of prices and styles for private work or to accommodate small meetings up to four people.
• Rethink demonstration kitchens, theater rooms and other lounge/amenity spaces so they are flexible, multipurpose and can have a second life during the weekday as coworking centers.
• Don't forget the lighting! It should be visually appealing and conducive to work with a combination of wall sconces, ceiling lights or standing lamps. Lighting should be bright so residents can see clearly regardless of the time of the day, but lighting should not cause glare on their working screens.
Future-proof Apartment Properties
Multifamily developers and architects building new apartment communities are doing their best to future-proof properties by including open floor layouts that can be programmed for a variety of needs as resident amenity preferences evolve over time.
If you are designing a coworking amenity in an existing property, avoid extensive remodeling costs by using retractable walls, stackable seats and mobile tables that allow the on-site team to adjust coworking capacity as needed.
Now more than ever, prospective residents are going to be looking for this amenity when they tour an apartment community. If you're thinking about adding coworking to your apartment amenity line-up, let's visualize the possibilities together. Click here to schedule a 30-minute interior design consultation today. Or call me at 347.840.2499.