By Diana Mosher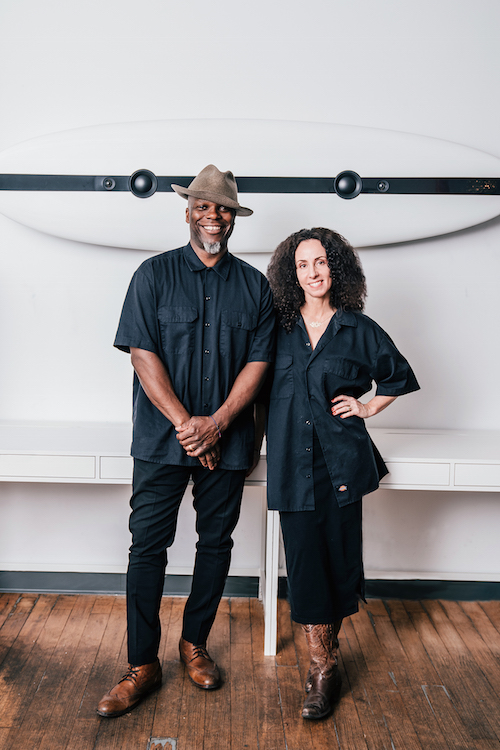 General Judd and Cristina Casañas-Judd are Co Founders of Me and General Design and entrepreneurs who consciously design interior environments to elevate the human spirit. The backdrop to their interior design studio and their unique brand stems from their former careers in the TV and film industry. Cristina began as a Set Decorator on the original Queer Eye for the Straight Guy before designing a number of feature films such as Adventureland. General began his creative career in the art department of film and TV before landing an acting gig as a Blue Man in the Off Broadway production for 18 years. Their competitive advantage is that their varied backgrounds allow their vision to extend universally beyond the proverbial box of designer offerings. Their mission is to see, listen and deliver the intended design with a narrative and proficiency. I'm a big fan of their work and was happy to have the opportunity to interview them recently!
What are you working on now?
We are currently working on a collaboration with Leon Speakers and artist Laolu Senbanjo for our custom patented SWICK Board 2.0. A Sonos powered Wi-Fi speaker housed in an up-cycled surfboard. As well we are featured designers within two concept homes. House Beautiful Whole Home Colorado and BADG (Black Artist Designers Guild) Obsidian, a virtual futuristic home designed for families of color. They both will be revealed later this year. We are also finishing up a private residence in Port Washington, NY and a new residential condo development in the Rockaways.
What has been your biggest success and your biggest challenge?
Maintaining the relationships we have forged with our repeat clients and obtaining new projects via word of mouth has been one of our greatest successes at Me and General Design. Our biggest challenge has been to remember to celebrate our successes and failures alike. Creating a continuous positive growth.
What inspires Me and General Design? What trends are you paying attention to?
Having unlimited creativity to create those "aha" moments for our clients, through innovation and unexpected design solutions.
Regarding trends, we pay attention to all of them—and none at all. We recognize trends in the industry but always follow our own path. There is nothing wrong with borrowing a little from here and there without becoming a trend yourself. What is most important to us is lasting design.
What next for Me and General Design?
We currently have a public library, another residential new development in New Jersey and various private clients in need of a home make over to accommodate WFH in the lineup.
Many businesses have been pivoting and rethinking how they do things; is there one positive takeaway from the pandemic that might be useful going forward?
For us, since the WFH order has been in place for the last four months and most certainly will come back this Fall, we are finding friends and clients alike are in need of permanent design solutions for their home office and wellness. We are revved up with loads of low-key and large transformational solutions for anyone to transition smoothly to a functional home setting. Since we have made this transformation ourselves, we have firsthand experience with the challenges of combining family and work to create a more efficient and streamlined work flow that allows productivity. The takeaway may be that we all have learned to live a more meaningful and essential lifestyle. We know we have.