By Diana Mosher
Continuing a successful partnership with Currey & Company, New York-based architect and designer Barry Goralnick's latest lighting collection is a reinterpretation of the perennially popular French Horn fixture. Goralnick gives this classic form a sleek, clean update with flared bell, gracefully tapered stem and sophisticated detailing.
His inspiration stemmed from this iconic design motif which has appeared in different incarnations throughout design history. Many notable eras of design including Traditional, Deco, and Mid-century have all embraced this stylish horn shape.
The Julian fixtures, with their instant appeal and versatility, are destined to be another classic. The Julian sconces can hang with flare up—or down—and are certified for damp locations.
Goralnick says he has always been drawn to the form of classical French horn fixtures. "By filtering it through a modern sensibility, with LED lighting, it becomes immediately relevant. Plus, it's sculptural and has a lot of design impact without taking up too much visual space."
"The Julian collection is the perfect extension of the Barry Goralnick Collection for Currey," adds Cecil Adams, Creative Director and VP of Currey & Company. "His pieces deliver a fresh rethinking of historical precedents from his unique perspective, sense of proportions and sense of humor."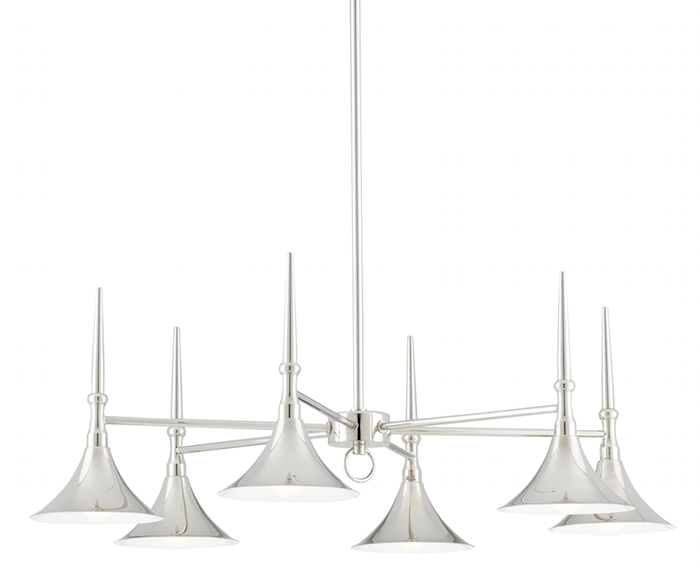 The Julian Chandelier in a polished nickel finish provides high-impact presence with an airy open design. Graceful arms reach from its small central hub ornamented with a decorative ring. The central rod hangs from a custom canopy.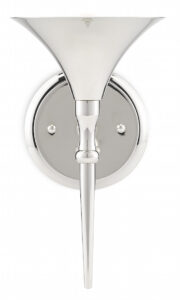 The Julian Sconce in polished nickel has a versatile geometric flared, bell-shaped shade and elongated stem coming out of the round wall plate and can be hung light-up or light-down. Certified for damp locations.
James Flushmount has a classic drum shape with open fretwork design woven around the exterior of its shade. Shown here in a polished nickel finish.