By Diana Mosher
Duravit first began working with prolific designer Philippe Starck in 1994. It was a good business decision that has resulted in many stunning products including the Starck 1 collection which continues to maintain iconic status to this day.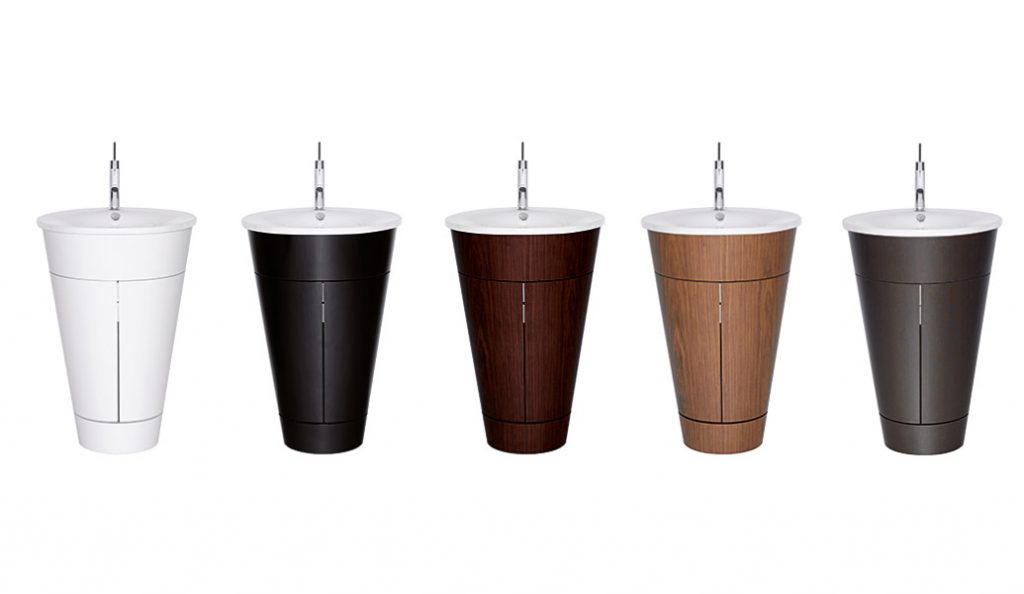 Now Duravit is celebrating its long-standing collaboration with Philippe Starck by introducing his first-ever bathroom design, the Starck 1 Barrel Vanity, in a range of new finishes and colors.
According to Tim Schroeder, President, Duravit USA, "Philippe Starck's progressive ideas for the bathroom embody his unique flair and perspective as a designer, combining the abstract with the functional. The Starck 1 collection has been a consistent bestseller since its launch, and we're excited to honor its popularity with a new range of creative colors that speak to Starck's playful sense of design."
The original Barrel Vanity was inspired by the most minimal bathing elements—a bowl, bucket and hand pump—which Starck applied to a modern setting. The range of surface finishes for this timeless piece has long included real-wood oak veneers and fine-grained dark Macassar, Oak, American Walnut, Black and White High Gloss.
For 2019, a fresh take on color provided even more ways to make a statement with shades such as Night Blue Satin Matte Lacquer, Light Blue Satin Matte Lacquer, Stone Grey Satin Matte Lacquer and Taupe Satin Matte Lacquer.
Each barrel is a unique, one-off product incorporating a wealth of hand craftsmanship. The conical unit on which the circular ceramic washbasin stands is based on glued plywood, which has undergone a multi-stage curving process. On the outside, it is covered either with a real-wood veneer protected by a melamine resin finish or with a paintable laminate in preparation for the subsequent high-gloss paint finish. Inside, the barrel is lined with high-quality black laminate and a glass shelf, and the curved doors allow for a wide opening angle.
For older properties looking to upgrade amenity areas or new construction that requires a luxury touch, the Starck 1 Barrel Vanity is a great choice.